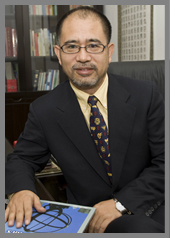 Liu Baocheng
Director
Dr. Liu received his MBA and MSC in International Business from Seton Hall University (USA) and his bachelor degree in International Trade and PhD in Law from University of International Business and Economics (UIBE, China).
He is the founder and Director of Center for International Business Ethics (CIBE) at University of International Business and Economics; and is the Deputy Director of China Open Economy Institute; founder of Sino-America International Management Institute; Director of Sino-French Excellence Institute; he set China's first Master Program on Sustainable Development at China Agriculture University in partnership with University Paris Dauphine (MSD) which filled in the gaps in China. He served as adjunct professor to Seton Hall University, Montclair State University, and University of Maryland. His area of research and teaching covers a variety of disciplines including marketing, business ethics, cross-cultural communication, and business law. Dr. Liu also serves on the council for China's Society of Economic Transitions, Research Center of Multinational Corporation, and he is also a member of Advisory Council to Beijing Foreign Investment Administration and to Shizuishan City of Ningxia Autonomous Region.
Besides teaching and research, he also personally involves in many projects which cover international trades, joint venture management, marketing research, and legal service. He has provide consulting or training to many clients, like BASF, Bentley, Bimbo, BP, China Central Party School, Chinese pharmaceutical companies, Herborium Inc., London Export Corporation, North China Electric Power, OTIS, Schneider, Sino-PEC, Sichuan Telecom, Unigene Laboratories, etc..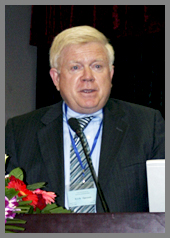 Kirk Hanson
Honorable President
Prof. Kirk Hanson graduated from the Graduate School of Business in Stanford University,and has taught there for 23 years, during when he did teaching and research work on economic ethics.Now he is the Executive Director in theMarkkula Center for Applied Ethics in MarkkulaUniversity, what'smore,he is also the professor of histology and sociology.
Hanson writes on managing the ethical and public behavior of corporations. He was the founding president of The Business Enterprise Trust, a national organization created by leaders in business, labor, media and academia to promote exemplary behavior in business organization. He has twice chaired Stanford's Committee on Investment Responsibility which advises the Stanford Board of Trustees on social investment issues.He has held graduate fellowships and research appointments at the Yale Divinity School and the Harvard Business School.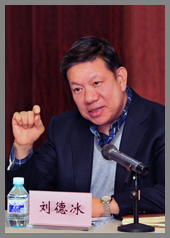 Liu Debing
Director of Advisory Board
Liu Debing currently serves as Director of Advisory Board of Center for International Business Ethics under University of International Business and Economics (UIBE), held the position of chairman of China General Consulting and Investment Company, President of China International Tendering Co. and chairman of Genertec (Beijing) Fund Management Co. before his retirement in 2014. Mr. Liu used to be vice president of China National Technical Imp & Exp Corp. and vice president of China National Machinery Imp & Exp Corp. Mr. Liu was awarded National Model Worker and State Special Allowance, and titled with Senior International Commerce and Senior Economist. He graduated from UIBE with Bachelor and MBA degrees.
Mr. Liu has been working in the field of international business for 36 years.He has devoted himself in importing several hundred licensing and know-how transfer deals as well as some governmental key projects for China with foreign partners from Europe, the US, Japan and etc, especially ones of Fortune 500, ranging from infrastructure, energy section, shipbuilding, telecom, metallurgic, and all kinds of machinery and equipment.Recently, Mr. Liuhas concentrated on cooperation with international community in the field of green, clean tech, energy saving and environment protection, eco-park construction as well as urbanization program, and he has participated in the creation of the first environmental industry development fund.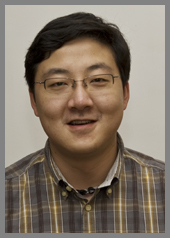 Li Xiaosong
Researcher
Li Xiaosong has been working in the research department of CIBE, and now is mainly responsible for projects related to Ethical Criteria and Business Ethics Case Studies.