On 17th March,2016, Expertise workshop on business ethics and social responsibility was successfully organized by CIBE and Rongzhi CSR Institute at the University of International Business and Economics (UIBE).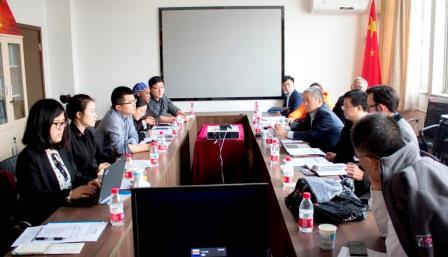 Many experts and scholars attended the workshop, including Lu Jingyong, professor of International Economic and Trade Institute of UIBE, director of China Investment Promotion Research Center; Xia Youfu, executive director of China open economy and international science and Technology Cooperation Strategy Research Center of UIBE; Li Li, deputy researcher of Institute for International Economics of UIBE; Liu Baocheng, director of CIBE of UIBE; Guo Yi, professor of economic school of Beijing Technology and Business University; Jason Tower
,
East Asian Regional Representative of American Friends Service Committee (AFSC); Zhang Junfeng, Former deputy director of International Labor and Social Security Research Institute of Ministry of human resources and social security; Yang Fengming, deputy director of China Society for World Trade Organization Studies of MOFCOM; Li Wen, Senior Manager of Corporate Cultural Department of Kunlun Energy Company Limited; Zhao Jun, Assistant to the president of China WTO Tribune; Wang Xiaoguang, director of Rongzhi CSR Institute; and representative of SynTaoCo., Ltd.
Lu Jingyong said, relatively, SMEs and private enterprises rarely behave well in terms of CSR while SOEs and large enterprises are doing better. Therefore, SMEs are to be paid much attention in promoting CSR.
Guo Yi pointed out that we need to think about the real meaning of CSR faced with emerging problem including technology ethics. He also emphasized the private enterprises should fulfill the responsibility. For one thing, they lack motivations and capability to honor their responsibility because of limited resources and particular development stage. For another, they are the majority of Chinese enterprises and the focus of CSR. Therefore, we need to learn more about SMEs and private enterprises. "We need to consider whether the CSR is suited for SMEs. There are specialized standards and guidance for SMEs in some European countries."

Zhang Junfeng mentioned the drafting of ISO26000 and ISO3600 in his comments. He indicated that these two standards are neither suited to nor practical for local conditions. He rose that SMEs can be allowed to make their own practical guidance, which is used as a tool for enterprises to figure out what to do and how to do things.
Firstly, Li Wen recognized the meeting and expressed that scholar and research institute on CSR should consider the whole society in order to achieve inclusive development and avoid resource waste. In other words, we need share resources and cooperate in order to achieve win-win result.
Jason Tower
introduced that
AFSC is non-governmental and non-profitable international organization, committed to maintaining social justice and promoting peace and humanitarian. Jason showed us what the committee is occupied and hope to learn more about how Chinese enterprises' view and deal with "these conflicts".
Xia Youfu talked about barriers in the international trade and sustainable development concerning environmental protection issues. When talking about One Belt and One Road, he said it is not owned by China but the whole world, which represents interest community, Community with a shared future and responsibility.
As the initiator of the workshop, Liu Baocheng talked that his original objective is to provide a platform for institutes to present their projects and promote the cooperation among them, to achieve win-win situation. Professor Liu presented studies on business ethics and international exchange activities by CIBE.
As a co-initiator of the workshop, Wang Xiaoguang said that the aim is to promote between these institutes concerning CSR and business responsibility, discuss the development with different views, promote effective dialogue and inclusive development, and to establish healthy social responsibility circle by discussing pressing issues and explore new development mode.
Expertise workshop on business ethics and social responsibility initiated by CIBE and Beijing Rongzhi CSR Institute is to promote exchange between institutes and healthy development of this area. More meetings are to expected in the future. Welcome to join!